Day 3 :
Neuro-Ophthalmology | Cornea Disorder & Treatment | Optometry and Vision Science
Location: Olimpica

Chair
Rosane Silvestre de Castro
University of Campinas – UNICAMP
Session Introduction
University of Campinas – UNICAMP, Brazil

Biography:
She holds a degree in Medicine from the Faculty of Medical Sciences of State University of Campinas - BR (1985), master's degree in Medicine by Faculty of Medical Sciences of the State University of Campinas -BR(1997) and PhD in Medicine from the Faculty of Medical Sciences of the State University of Campinas –BR (2001). She is currently a State University of Campinas, a founding member and the Brazilian Cornea and Eye Bank.
She is Medical assistant of the discipline of ophthalmology of the Clinical Hospital of the State University of Campinas (CH Unicamp), Chief sector of cornea and external diseases of the ophthalmology discipline of CH Unicamp and Physician responsible for corneal transplant team of the CH Unicamp.
She has experience in the area of Medicine, with emphasis in Ophthalmology, acting mainly in the following subjects:
Ophthalmology, cataract, cornea and external diseases, prevention of blindness
Abstract:
The term ulcer comes from the Latin ULCUS defined as "injury" with superficial loss of tissue, usually associated with inflammation.
Corneal ulcers rarely occur in normal and / or healthy eyes. The quest for a causal factor must be considered.
In order for a pathogen to cause damage to the cornea, 4 concomitant factors are necessary: ​​access, adhesion, penetration and proliferation of the microorganism on the ocular surface and corneal epithelium.
The eye has different defense mechanisms: anatomical, immunological, chemical and natural, responsible for maintaining the balance of a system that includes eye and microbiota.
The clinical history of exposure to predisposing factors such as contact lens wearers, foreign body and corneal trauma, use of chronically topical medications, ocular surface alteration associated with or not tear film abnormality, previous eye surgery, including refractive surgery or exposure to potentially contaminated water and abusive use of contact lenses are associated with increased risk of infection.
Fungal keratitis
The first report of fungal keratitis dates back to 1879 when Leber described a case of aspergillus sp keratitis, evolving with a hypopyon. Until 1951 only 63 cases of fungal keratitis had been described, but with increasing use of corticosteroids and antibiotics, an increasing number of cases were observed.
The main causative agents are filamentous fungi (aspergillus sp and fusarium sp) and yeast (candida sp)
The risk factors for filaments are vegetal trauma and for yeast infections are prior eye surgery, chronic keratitis, exposure keratitis, immunodepressed.
Clinical features - lesion of slow progression, cottony appearance or hyphal infiltrate, satellite lesions, hypopio, endothelial plaque, infiltrate that invades the anterior chamber and ring infiltrate.
Treatment consists of two classes of drugs: polenos and imidazole drugs which can be used topically or systemically. Adjuvant treatments in non-responsive cases may be used as corneal transplantation, tissue adhesives, conjunctival flaps.
Treating a fungal keratitis is a major challenge, given the difficulty in obtaining drugs for topical treatment, its penetration in the tissues, the low adherence to the treatment by the patient, prolonged treatment time, recurrence of the disease.
Alexandria University, Egypt

Biography:
Dr. Hossam E. Elbarbary was graduated in 2001 from Faculty of medicine, Alexandria University, Egypt. He has completed the Master degree of Ophthalmology in 2006 and his M.D. and PhD in 2011 from Faculty of Medicine, Alexandria University, Egypt. He is a Lecturer and Staff university member of Ophthalmology Department of Alexandria Medical School. He is a consultant of Orbit, Lid, and Lacrimal Surgery in the Alexandria University Hospitals. Also he is a skilled cataract and refractive Surgeon. Now he is a consultant ophthalmologist in Al-Jedanny Hospital, Jeddah, Kingdom of Saudi Arabia.
Abstract:
Purpose: To evaluate the cosmetic and functional outcomes of subciliary incision for external dacryocystorhinostomy (DCR).
Methods: This study was a prospective interventional case series. Thirty eyes of external DCR for primary acquired nasolacrimal duct obstruction were done through the subciliary skin approach. Successful functional outcome was defined as relief from epiphora, and normal Fluorescein Disappearance Test (FDT). The cosmetic outcome of the scar was evaluated objectively by the surgeon and subjectively by the patients using the scar grading scale of the postoperative photographs: 0, invisible incision; 1, minimally visible incision; 2, moderately visible incision; and 3, very visible incision. (1,2) The followup visits were done over a period of 6 months after surgery.
Results: The study included thirty eyes of 26 patients. Primary external DCR through subciliary approach was done for all cases over a period of 3 years starting from June 2013 to May 2016. Four patients (5.5%) of these 26 patients had bilateral DCR. Epiphora was markedly improved in all cases with average reduction of Fluorescein Disappearance Test (FDT) from 17.8 minutes to 3.1 minutes. Objective grading of the scars was 100% invisible (grade 0) and Subjective scar grading by the patients was 100% invisible (grade 0) at the end of the postoperative follow up visits without any other complications related to surgery.
Conclusions: The subciliary incision for external DCR has a high functional success outcome with the advantage of an excellent cosmetic and satisfying scar outcome to the surgeon and the patient. The subciliary approach was simply an attempt to combine the best of 2 worlds, namely subciliary incision and external DCR. (2)
Biography:
Abstract:
Purpose: We describe a technique for phacoemulsification of hard (brunescent and white) cataract after implantation of a foldable acrylic posterior chamber IOL (PCIOL) between the hard nucleus and the posterior capsule. This new technique was compared with the standard phacoemulsification.
Methods: Interventional randomized case series of 64 eyes of 56 patients with senile mature white or hard brunescent cataract. The first 32 eyes were randomized for standard phacoemulsification using stop and chop technique and foldable soft acrylic PCIOL with soft haptics. The second 32 eyes were randomized for the same type of PCIOL implanted between the hard nucleus and the posterior capsule before starting phacoemulsification "the implant pre-phaco" group.
Results: In each groups 2eyes developed transient corneal edema. Iris phaco-burn developed in 2 eyes of the standard phacoemulsification group and one eye of the "implant pre-phaco" group. Posterior capsule rupture (PCR) with vitreous prolapse occurred in 3 eyes of the standard phacoemulsification group. In the "implant pre-phaco" group one eye developed PCR with no vitreous prolapse. The difference in PCR between the 2 groups was not statistically significant but the vitreous prolapse in the AC was significantly higher in the standard phacoemulsification group. IOL decentration or dropped lens fragments did not occur in either groups.
Conclusion: The IOL behind the hard nucleus acts as barrier shield that covers and protects the posterior capsule and the anterior vitreous face. This could make phacoemulsification of hard cataracts safer.
Tishreen University Medical School, Syria

Biography:
Dr. Deyar Ibrahim graduated from Tishreen University Medical School in 2009 and completed his specialization in Ophthalmology at Tishreen Educational and Research Hospital in 2013 ( MD with Excellent degree) and worked there until 2014. His practice and experience is especially in surgical retina, medical retina, ocular trauma, cataract refractive surgery, lasers and medicolegal ophthalmology.. He has been working at his own office since 2014 in Erbil (Kurdistan region of Iraq). Dr. Deyar is member of both some national and international ophthalmological associations and societies
Abstract:
Purpose: To report two cases of unilateral retinal detachment (RD) after myopic LASIK.
Case presentation:
First case: A 17 year old male with Axial Length (AL) 27 mm in right eye (OD) and 27.62 mm in left eye (OS) underwent Lasik. 43 days later he complained of sudden loss of vision in his left eye secondary to macula off RRD with superior temporal large horseshoe and inferior holes
Second case: A 27 year old female with Axial Length (AL) 25.50 mm in (OD) and 25.06 mm in (OS) complained after 8 months of LASIK surgery from sudden loss of vision in her right eye secondary to superotemponasally RD with macula off due to giant tears and many circular micro holes superiorly.
Both patients were managed by pars plana vitrectomy (PPV) with silicon oil tamponade which extracted after 3 months in both patients. The retina was attached post operatively and the BCVA was recovered to the same BCVA after Lasik surgery.
The other eye of both patients was treated with Argon laser photocoagulation around lesions were detected with fundoscopy, and remain stable anatomically and functionally
Conclusion: RD after myopic Lasik can be a serious complication; patients should be informed about possibility of this complication. Each patient should undergo a very thorough dilated fundoscopy and treatment of any retinal lesion predisposing for the development of RD before LASIK surgery is performed.
Keywords: Lasik , myopia, retinal detachment, PPV.
King Saud University, Saudi Arabia
Biography:
Abstract:
Purpose. Long-term mitomycin C (MMC) effects in photorefractive keratectomy (PRK) were compared in simple myopic and astigmatic patients. Methods. In this observational cohort study, subjects were selected based on preoperative and postoperative data collected from medical records; they were divided into simple myopia with/without MMC and myopic astigmatism with/without MMC groups. Haze, uncorrected visual acuity (UCVA), best-corrected visual acuity (BCVA), subjective refraction, and K- reading were evaluated at 1-, 3-, 6-, and 12-month follow-ups. Results. One-hundred-fifty-nine eyes of 80 subjects (34 women and 46 men; mean age, 26.81 ± 7.74 years;range, 18–53 years; spherical powers, -0.50 to -8.00 DS; cylindrical powers, -0.25 to -5.00 DC) were enrolled. One year postoperatively, the simple myopia with/without MMC groups showed no difference in UCVA (P = 0.187), BCVA (P = 0.163), or spherical equivalent (P = 0.163) and a significant difference (P = 0.0495) in K-reading; the haze formation difference was non-significant (P = 0.056). Astigmatic groups with/without MMC showed a significant difference in K-reading (P < 0.0001). MMC groups had less haze formation (P < 0.0001). Conclusion. PRK with intraoperative MMC application showed excellent visual outcomes. MMC's effect on astigmatic patients was significantly better with acceptable safety and minimal side effects.
Ophthalmology Case Studies | Cataract
Location: Olimpica

Chair
Rosane Silvestre de Castro
University of Campinas – UNICAMP
Session Introduction
India
Biography:
Abstract:
PURPOSE:To evaluate choroidal thickness in patients with unilateral amblyopia using spectral doman optical coherence tomography(SD-OCT)
METHODS: In this prospective study 41 patients aged 5- 40 years with unilateral amblyopia (anisometropia and strabismic) underwent evaluation using SD-OCT scanning for measuring choroidal thickness at department of Ophthalmology out patient department. The choroidal thickness was measured in subfoveal and at other locations 0.5 mm, 1mm, 1.5 mm away from fovea in nasal and temporal quadrants in both amblyopic and normal eye of the same patient. In this study, we are correlating subfoveal choroidal thickness in amblyopic and normal fellow eye. Various other parameters like age , sex , axial length, k reading , orthoptic evaluation and refractive errors were recorded. T- test was used to compare measurement between ambyopic and normal fellow eye in patients with amblyopia.
RESULTS : Mean age of patients was 21.85 ±11.17 years .The subfoveal choroidal thickness at fovea was greater in cases of amblyopic eye as compared to normal fellow eye . Subfoveal choroidal thickness in amblyopic eye was found to be 335 ± 61.54 µm whereas in normal fellow eye 313.90 ± 48.01µm. The subfoveal choroidal thickness in amblyopic group(p=0.043) is greater as compared to normal fellow eye. In case of strabismic amblyopia (p=0.056),subfoveal choroidal thickness is not significantly greater. In anisometropic amblyopia , (p =0.042), subfoveal choroidal thickness is significantly greater as compared to normal fellow eye.
CONCLUSION : In subfoveal area, the choroid was thicker in amblyopic eye than in the normal fellow eyes . A thicker choroid is related to amblyopia, and this may be a useful diagnostic parameter for amblyopia irrespective of age especially in orthophoric eyes.
Saint-Petersburg, Research & Education Centre for EBM Cochrane, Russia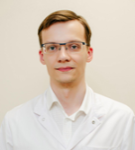 Biography:
Gleb M. Arslanov studied general medicine in Bashkir State Medical University (Ufa, Russian Federation) and passed Department of Ophthalmology with Institute of Postgraduate Education course on specialty "Ophthalmology" in 2014. Medical work builds on principles of evidence-based practice. Main professional interests are devoted to diagnosis and treatment of retinal (age-related macular degeneration, diabetic retinopathy and retinal vein occlusions), optic nerve (glaucoma) and choroid diseases (uveitis)
Abstract:
Statement of the Problem: A significant part of cases (according to the literature about 40%) peripapillary choroidal neovascular membranes (PCNV) not associated with anything retinal pathology and described as "idiopathic". This presents difficulties in determining the tactics of these patients. PCNV remains poorly understood and requires further research. The purpose of this study is describe the results of treatment three patients (intravitreal bevacizumab) in case series with active PCNV which not associated with other retinal pathology (AMD, polypoidal vasculopathy, angioid streaks, degenerative myopia, serpiginous choroiditis). Methodology & Theoretical Orientation: Three eyes were included in the study (3 patients, 1 male and 2 woman). The median age was 71.3 years old (65-76). The methods of examination and control were BCVA, ophthalmoscopy, fundus photography and optical coherence tomography (OCT). Fluorescence angiography (FA) was performed to confirm the activity of PCNV and further according to indications, depending on changes in the clinical findings and OCT. Injections were administered monthly in the first three months, then treatment was repeated (depending of activity PCNV on OCT and FA). The median follow-up period was 6.6 months (4-10). The median number of injections was 4.6 (3-6). Findings: Improvement BCVA was observed in one patient (from 20/50 to 20/30), one noted stable (at 20/40) and one was reduction (from 20/30 to 20/50), despite the monthly treatment (5 injections) and continued edema by OCT. Thus, inhibition of PCNV activity confirmed by OCT and FA was observed only in two patients. There were no any systemic and side effects. Conclusion & Significance: Intravitreal administration of bevacizumab (as first-line therapy) is sustainable, effective and safe approach to prevent loss of vision in cases of PCNV. There are refractory cases which requires a revision of approaches in treatment. We suggested that they should respond better to combination therapy
Division of Ophthalmology, University of Cape Town, South Africa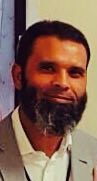 Biography:
A/Prof Nagib du Toit has his expertise in ocular trauma having published studies in the field and having completed his PhD on Open Globe Injuries. The large number of assault cases presenting with eye injuries in Cape Town, South Africa lent itself to doing research in this field. Studies with interesting findings, which are relevant to practice in eye care generally, have consequently been published.
Abstract:
Background:
Most post-traumatic acute infectious endophthalmitis occurs within a week of open globe trauma, necessitating early antibiotic prophylaxis. There are few randomised studies that demonstrate the benefits of prophylactic antibiotics. This randomised controlled non-inferiority trial was aimed at determining the incidence of post-traumatic endophthalmitis using established intravenous/oral prophylaxis and comparing this to the incidence using oral antibiotics only.
Methods:
All adult patients admitted with open globe injury were included. Those with proven endophthalmitis, those with high-risk features, those who underwent primary evisceration and those allergic to the trial antibiotics were excluded. Patients were randomised to receive either intravenous cefazolin and oral ciprofloxacin or oral ciprofloxacin and oral cefuroxime for three days from admission. Acute endophthalmitis was the primary outcome measure. Patients completed the study if they were followed up for six weeks post-injury.
Results:
Three hundred patients were enrolled, with 150 in each arm. There were 99 exclusions. Seven patients developed endophthalmitis despite prophylaxis - 2.0% (three cases) in the standard arm and 2.7% (four cases) in the oral arm - this difference was not statistically significant (p = 0.703).
Conclusion:
The incidence of endophthalmitis with prophylaxis was 2-3%. Patients who suffer open globe injury should be treated for endophthalmitis if already infected; be eviscerated if warranted by severe injuries; and receive intravitreal injections of prophylactic antibiotics if risk factors for infection are present. The remainder may receive either intravenous cefazolin and oral ciprofloxacin, or oral cefuroxime and oral ciprofloxacin – the latter has the advantage of shortening patients' hospital stays and reducing costs. Non-inferiority study design limitations should be taken into account, however.

Biography:
Ahmed Shawkat Abdelhalim;lecturer of ophthalmology in the ophthalmology department in Minia University Hospital,Faculty of Medinicine of Mina University,subspecialized in the vitroretinal field and interested in vitroretinal surgery
Abstract:
Congenital optic disc pit (ODP) appears as a localized oval or round depression within the nerve head. It may develop secondary to a defect in the primitive epithelial papilla. Some pits have also been seen in eyes with optic nerve or retinochoroidal coloboma. In these cases the incomplete closure of the embryonic fissure may play an etiological role.
Retinal detachment is more commonly seen with large temporally located pits and usually involves the macula. Centrally located pits are generally not associated with retinal detachment. Macular retinoschisis has been also described in eyes with congenital optic pits and retinal detachment
Purpose: To evaluate the anatomical and functional results of pars plana vitrectomy (PPV) combined with internal limiting membrane (ILM) peeling, endolaser photocoagulation and gas tamponade in management of optic disc pit (ODP) maculopathy. In a prospective interventional non comparative case series study
Patients and Methods: Nine patients with optic disc pit maculopathy underwent PPV combined with ILM peeling, endolaser photocoagulation and C3F8 gas tamponade between April 2011 and April 2016. Patients were followed up clinically and by coherence tomography (OCT) for 6 months postoperatively.
Results: Resolution of subretinal and intraretinal fluid occurred in 77.7% of the patients at the end six month follow up. There was significant improvement in visual acuity in all eyes. No intraoperative or postoperative complications encountered in all cases
Ain Shams University hospitals, Abassia, Cairo, Egypt
Biography:
Hisham MK AbdEl Dayem MD. Consultant eye surgeon, Department of Ophthalmology, Faculty of Medicine, Ain Shams University, Cairo, Egypt
Abstract:
Objective
To compare expression of Multidrug-resistant protein 1/P-glycoprotein (MDR1/Pgp) in retinoblastoma in eyes treated by primary enucleation due to advanced tumor at initial presentation and those enucleated after being resistant to chemotherapy.
Design and Methods
A prospective non randomized masked analysis. of pathology specimens obtained from twenty retinoblastoma patients presenting at the retinoblastoma clinic at ophthalmology department, Ain Shams University Hospitals. Specimens from patients who had enucleation were divided into 2 groups. Patients in group 1 underwent primary enucleation due to advanced tumor at presentation. Patients in group 2 underwent secondary enucleation after failure of conservative treatment. Immuno histochemical studies were performed searching for expression of Multidrug-resistant protein 1/P-glycoprotein (MDR1/ Pgp) in the two groups. Patient demographic and eye examination data we collected and reviewed.
Results
Analysis of the primary enucleation group showed high positive, low positive and negative expression in 1 (10%), 2 (20%) and 6 cases (70%) respectively. In secondary enucleation group 5 cases (50%), 3 cases (30%) and 2 cases (20%) showed high positive, low positive and negative expression respectively.
Conclusion
This pilot study though, not being able to demonstrate statistical significance in MDR1 expression in primary enucleated vs. secondary enucleated resistant cases, demonstrated p value low enough to indicate a trend for more MDR1 expression in resistant cases.( P= 0.068), . Further study with a larger sample size is warranted